Saemangeum Shorebird Monitoring Program 2007
Late May Count Update and Whole-Spring Overview
May 28, 2007
This is a preliminary summary of count data and habitat assessment from the four spring-tide cycles of this year's Saemangeum Shorebird Monitoring Program (SSMP), a joint initiative of the domestic organization Birds Korea and the international Australasian Wader Studies Group. It is based on earlier postings combined with data from the fourth and final count series of the spring.
Spoon-billed Sandpiper, Simpo, Ogku.
Photo © Thomas Langenberg.
This spring's survey work, conducted between April 2nd and May 27th, is part of a three-year Program (2006-2008) aiming to assess the effects of the ongoing reclamation of the Saemangeum estuarine system on the huge number of shorebirds dependent on the system during migration. The data and information provided below will be refined further, for publication in the SSMP 2007 Report and in other papers, and can be cited freely by others with proper acknowledgement and caveats.
Between April 2nd and May 27th 2007, a total of 53 people counted or assisted counting shorebirds at three adjacent intertidal wetlands on the west coast of South Korea: The 40,100 ha Saemangeum reclamation area (until closure of the sea-wall on April 21st 2006, an area that comprised the free-flowing estuaries of the Mangyeung and Dongin Rivers which had earlier been identified as the single most important known shorebird site in the Yellow Sea: e.g. Barter, 2002); Gomso Bay and the still-threatened Geum Estuary.
Shorebird surveying of such a large and complex area is labour-intensive, with discrete counting teams required to carry out simultaneous counts of all the high tide roosts with mimimal risk of double-counting individual birds. In addition, counts need to be carried out throughout the migration period, as different shorebird species pass through the region at different times. In 2006, we found that in most shorebird species, numbers of staging shorebirds built up through April, reaching a peak by mid-May before birds departed again, most probably heading directly to the breeding grounds (Moores et al., 2006; Rogers et al., 2006).
In addition to the count program, searches were made for colour-marked birds, both during spring high tide and neap tide series. Most were colour-banded or leg-flagged, and on April 16th, two teams of observers also travelled north to Asan Bay (Gyeonggi Bay) to locate and photograph two Bar-tailed Godwitss satellite tracked to Korea from New Zealand. Shorebird counts have been centred around complete surveys of the study region over four spring- tide periods (2nd -7th April, 14th -19th April, 30th April to 6th May and 14th to 22nd May), with reconnaissance and colour-band searches being carried out in the intervening periods of neap tides. The mid-April and early May spring tide series in 2007 have occurred at about the same time as similar tide series in 2006, when there was still extensive shorebird habitat in Saemangeum, allowing some early comparisons to be made between years.
Within Saemangeum, land-based counts by four teams were supplemented by whole-day boat-based counts on April 7th and 18th , and May 3rd and 20th. Boat-based work is now essential for complete surveys of Saemangeum, as the tidal range has dropped to an estimated 17-30 cm (it was c. 7 m before closure of the sea-wall in late April last year), and many of the shorebirds present now occur on low-lying islands that were formerly submerged by high tides.
In total, a minimum of 69,441 shorebirds were counted in the mid-April spring-tide series, with 29,801 at the Mangyeung and 39,640 at the Dongjin (this compares with a rather similar total of 71,709 shorebirds counted within the Saemangeum area between April 15th and 17th, 2006). Most numerous were Great Knot (6188 at the Mangyeung and 25,727 at the Dongjin) and Dunlin (19,212 at the Mangyeung and 10,678 at the Dongjin).
Shorebird numbers had declined by the time of this year's early May surveys, when 54,101 shorebirds were found, with the majority occurring in the Mangyeung Estuary (35,172) rather than the Dongjin (18,838). This decline is particularly worrying when the typical timing of shorebird migration through Korea is borne in mind; numbers typically peak in the first half of May, and in the late April spring-tide survey held in Saemangeum in 2006, 156,585 shorebirds were found.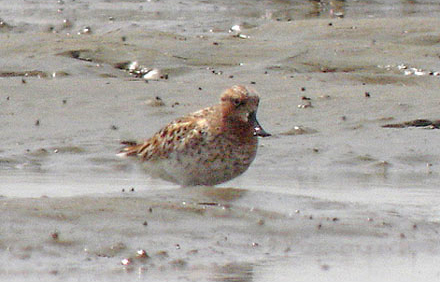 Spoon-billed Sandpiper, Simpo, Saemangeum. Photos © Geoff Styles.
Part of this decline between mid-April and mid-May 2007 came through the degradation of a rich area of formerly healthy-looking tidal-flat off Gyehwado in the outer Dongjin which had supported 18, 220 Great Knot on April 18th. With lower water levels in late April and early May, this island expanded greatly in area, with most of the flats now dried out and littered with abundant dead shells. On May 3rd, only 1003 Great Knot remained at this site, and only 2348 Great Knot in total were found throughout the whole Dongjin, with the four other most numerous species there being Dunlin (11,460), Bar-tailed Godwit (1232), Terek Sandpiper (861) and Grey Plover (732). In addition, one Nordmann's Greenshank was found. At the Mangyeung during this period, the most numerous species were Dunlin (19,614), Great Knot (5,089), Bar-tailed Godwit (2,671), Grey Plover (1876) and Red-necked Stint (1,310), with internationally important concentratations of Terek Sandpiper (785), Ruddy Turnstone (336), Eastern Oystercatcher (172) and the Endangered Nordmann's Greenshank (6). The Endangered/Critically Endangered Spoon-billed Sandpiper was seen on April 24th (2) and 27th April (1), but not during the early May surveys.
Shorebird declines were still more apparent by the time of the surveys undertaken in mid-late May, when the overall number of shorebirds present at Seamangeum had declined from 176,955 shorebirds (in 2006) to only 51,742 shorebirds (in 2007). Again, the greatest numbers of shorebirds were found on islands, especially near Haje and Simpo in the Mangyeung River (also the last remaining tidal flats in Saemangeum where shellfishery occurs at any scale). Much the greatest decline occurred in one particular species, the Great Knot.
Saemangeum was formerly the most important staging site for this species on northwards migration, with 86,288 birds being counted there in the mid-May series in 2006 (22.7% of the estimated world population). In 2007 we could only find 3566 Great Knot in the Saemangeum system (4% of the 2006 population). This species has a specialised diet, feeding mainly on bivalves, and following the shellfish die-off that occurred in 2006 after sea-wall closure, it would appear that the system can already no longer support this species in large numbers.
Of 12 other shorebird species that occurred in internationally significant numbers in Saemangeum in 2006, 11 had also suffered a decline by 2007, including Dunlin (down from 62,508 to 27,834), Mongolian Plover (from 5914 to 1888), Bar-tailed Godwit (down from 5422 to 2889), Red-necked Stint (5154 to 4115), Terek Sandpiper (3855 to 2650), Whimbrel (1028 to 812), Ruddy Turnstone (744 to 294), Far Eastern Curlew (610 to 64), Broad-billed Sandpiper (338 to 155) and Nordmann's Greenshank (14 to 9). Common Greenshank also declined, from 912 to 316 birds. Only one species (excluding vagrants/rare migrants) increased, the Grey Plover (from 2179 to 3209); this might have reflected a slight difference in survey dates.
The two most endangered migratory shorebird species of the East Asian-Australasian flyway were again found in Saemangeum. Nine Nordmann's Greenshank were found (cf. 14 found in 2006), mostly scattered within Grey Plover flocks. Still more noteworthy was the Spoon-billed Sandpiper. In 2006, four birds were present at Simpo for the final month of northwards migration, and a flock of 30 birds were found at Ogku at the end of the expedition at mid-May. In 2007, there were again four birds at Simpo through the mid-May spring tide series, but we failed to "find" the Ogku flock until 26th May, when Geoff Styles (wading out to a small offshore island) counted 31 birds. We consider it likely that these birds had been overlooked previously (most probably on one of the tidal flat islands off Haje, some 3 km from Ogku and 5 km from Simpo, which we only scanned from a distance on the boat-based survey), and relocated to Simpo in the final days of May.
Other threatened species found in Saemangeum in mid-May included three Black-faced Spoonbill.
While Saemangeum still remains of considerable international importance to shorebirds, conditions within most of the reclamation area continue to deteriorate, with open expanses of desert-like dried-out sandflats and severe water quality conditions prevalent in many wet areas leading to red algal bloom puddles in muddy areas, dense gravy-brown waters in some bays, and thick scum and dried foam in creeks and channels.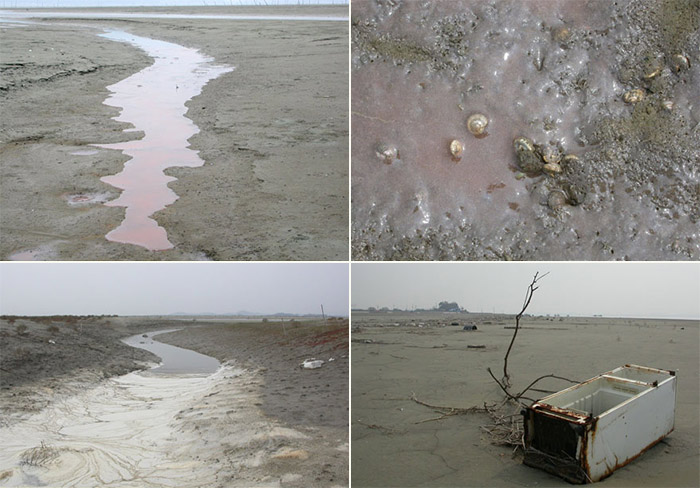 When the courts allowed the Saemangeum reclamation to continue, the only caveat that the judges gave was that good water quality must be maintained. This is clearly not happening, but is never mentioned by media. Some indicators of severe water quality and environmental degradation:
Red algal sludge, outer Dongjin, May 2007.

Although claimed to be environmentally-friendly, large-scale reclamation causes severe water pollution and mass die-offs in many species. Dongjin, May 2007.

With almost no tidal movement, many tidal creeks are now filled with foam and garbage. Mangyeung, late April 2007.

Throwaway society. While claiming that good water quality can be maintained, Okgu tidal-flats, which once supported tens of thousands of shorebirds, is now littered with garbage. April 2007.
Gomso Bay (south of Saemangeum) is not traditionally a rich shorebird site, though Whimbrel were found there in internationally significant numbers in 2006. However, surveys at Gomso Bay on April 2nd, 6th and 19th 2007 found higher numbers of shorebirds than previously. The count of 1805 shorebirds on April 6th included 1627 Dunlin while the count of 2941 shorebirds on April 19th consisted mostly of Great Knot (1664), Dunlin (580) and Far Eastern Curlew (315). This total compares with only a single shorebird found at the same site on April 15th 2006!
In the survey on 1 May 2007, numbers had declined, with the 726 shorebirds found consisting mostly of Whimbrel (368). Of especial note, only 2 Great Knot were logged, suggesting that this sandy bay is largely unsuitable for the species and those birds found in mid- April had been obliged to move elsewhere. Yet by mid-May, numbers at Gomso Bay had increased again, with the count of 2681 shorebirds including 1876 Great Knot and 362 Whimbrel. A Chinese Egret (internationally listed as Vulnerable) was also found, but regrettably, the bird was dead, drowned in a fish cage set on the tidal flats that had also captured 5 shorebirds.
In contrast to Gomso Bay , the Geum estuary (immediately north of Saemangeum) has long been recognised as an internationally important shorebird site. Repeated counts at mainland sites of the Geum in 2007 were supplemented by simultaneous counts of both mainland and outer tidal-flat sites on April 4th and 15th, and May 5th and 6th and again on several dates in mid-late May. Arrival dates on the mainland sites were established by regular counts from Mid- March. Internationally important numbers had already built up by April 4th, when 25,982 shorebirds were counted, the most numerous being Dunlin (16,641), Great Knot (2872), Bar-tailed Godwit (2462), Grey Plover (1081), Far Eastern Curlew (786) and Eastern Oystercatcher. On 15th April, a total of 50,560 horebirds were found in the same area, with most numerous being Great Knot (28,554), Dunlin (13,050), Bar-tailed Godwit (4029) and Far Eastern Curlew (1405). By May 6th, numbers in the Geum had continued to build to a minimum of 91,119 shorebirds, the most numerous being Dunlin (38,664), Great Knot (36,251), Bar-tailed Godwit (5,532), Grey Plover (3542), Mongolian Plover (2101) and Far Eastern Curlew (1387). Yubu Island, located in the outer part of this system, again proved a stronghold for the Endangered Nordmann's Greenshank, with 9 being found there on 15th April, 16 on 17th April and a conservative 19 on 6th May, in addition to 4 Spoon-billed Sandpiper. In total 79,002 shorebirds were counted on the shorebird roost at Yubu Island on 6th May.
By the time of the mid-May count series in 2007, shorebird numbers had declined in the Geum Estuary, though they still slightly exceeded those seen in 2006. A total of 69,263 shorebirds were found, including 26,664 Great Knot (cf. 29,838 in 2006), 22,460 Dunlin (cf, 20,150 in 2006), 4385 Mongolian Plover (cf. 1,691 in 2006), 3821 Bar-tailed Godwit (3,338 in 2006), 2995 Grey Plover (3,004 in 2006), 2268 Terek Sandpiper (1629 in 2006), 2127 Red-necked Stint (719 in 2006), 1202 Black-tailed Godwit (930 in 2006), 642 Sharp-tailed Sandpiper (1014 in 2006), 603 Ruddy Turnstone (695 in 2006) and 272 Broad-billed Sandpiper (11 in 2006). Highlights included a flock of 51 Nordmann's Greenshank at Yubu Island (in the same area where 70 were recorded in 2006), and a minimum of eight Spoon-billed Sandpiper. Only one Spoon-billed Sandpiper was found in the Geum in mid-May 2006, but the increase may reflect increased search effort for this easily overlooked species.
The Geum Estuary counts seem of great significance in at least three ways. The first is that the counts there for the first time greatly exceed comprehensive counts throughout the whole of the Saemangeum system, emphasizing the Geum Estuary's extreme international importance, while highlighting the decline in value of Saemangeum. The second is that there was an absolute increase in numbers of shorebirds there between years, with the early May count of 91,119 far exceeding the peak counts of 2006 (58,693 in late April and 66,627 in mid-May), though numbers had declined by mid-May. We have not yet calculated the total number using the Geum this northwards migration, but (especially considering estimates of 50,000 Great Knot and 9,000 Bar-tailed Godwit also logged at Yubu Island in mid-late April this year), it is clear that at least 120,000 shorebirds (with no upward correction for migratory turnover) were supported by this system during the northwards migration of 2007. Third, of major concern, is that while Great Knot are considered likely to reach a peak in this region in mid-May before mass departure in mid-late May, their numbers recorded during the May count cycles of 2007 fell well below those counted in late April 2006.
While there has been no evidence of mass mortality (of this or any other shorebird species), it seems that many Great Knot have been displaced by the Saemangeum reclamation, and that not all of the missing birds were able to relocate to or persist at Gomso Bay or the Geum Estuary (contradicting the bland claims made by the Ministry of Agriculture and Forestry in 2003, that shorebirds displaced by the Saemangeum reclamation will simply move to Gomso Bay and the Geum). Lacking evidence to the contrary, it seems most likely that these displaced Great Knot will have staged at less optimal sites elsewhere in the Yellow Sea . Those birds that were unable to put on sufficient mass during the remainder of the spring will likely be unsuccessful breeders, contributing to long-term declines in this species. Future research, including increased intensity of counts in Australia during the boreal winter and the 2008 SSMP, are well-placed to detect resultant significant declines at the population level of this species.
This field research has been conducted in tandem with a number of awareness-raising and data-sharing activities, including presentations in Mokpo with the local office of the Korean Federation for Environment Movement (one of Korea's leading environmental organisations); visits to the British and Australian embassies, where reports were handed over and discussions held relating both to Ramsar and the Korea-Australia Migratory Bird Agreement; interviews with media and associated press releases and coverage (see e.g. http://www.birdskorea.or.kr/bbs/view.php?class=freeboard&no=100); a symposium and open photo exhibition at Wonkwang University in the first week of May; an open afternoon shorebird watching on May 5th; and a meeting with local fisherfolk and community leaders at Gomso Bay on May 16th. In addition, we have posted data from earlier count cycles both in English and Korean on the Birds Korea websites (www.birdskorea.or.kr, and www.birdskorea.org), on special listservers, and in part on the websites of both the Korean Wild Bird Society and that of the national office of the KFEM (www.kfem.or.kr/campaign/sos_e_report/070424/).
We believe that this combination of hard science and focused advocacy is already creating positive results, contributing significantly to other ongoing research and advocacy initiatives. In mid-May, major national and international coverage of the demise of Saemangeum was provoked by an RSPB press release, "Wildlife starves on emptied wetland", marking World Migratory Bird Day.
Within days, the national Hangyoreh newspaper reported that the head of Seocheon county, where the threatened mainland Geum Estuary tidal-flats are located, finally followed the lead taken by the national Ministry of Maritime Affairs and Fisheries (in September 2006), and publicly announced the county's opposition to the Geum Estuary reclamation. While this does not ensure that the Geum reclamation will be permanently cancelled, it makes imminent reclamation extremely unlikely, and long-term conservation of the site much more probable.
The broader conservation picture on the west coast of South Korea remains dismal.
It is clear that the tidal exchange through the Saemageum sea-gates over the last year has not been sufficient to maintain the quality of shorebird habitat within; enormous shorebird declines are already apparent at Seamangeum; there is strong evidence that birds have been displaced from Saemangeum and reason to believe that many of them will be unable to find acceptable alternatives. Furthermore, small-scale and large-scale reclamation projects continue to threaten the majority of South Korea's remaining internationally important sites for shorebirds (e.g. Moores, 2006).
Considering the region's extreme importance to waterbirds, and the obligations held by South Korea under the CBD, the Ramsar Convention and under the Bilateral Migratory Bird Agreement signed by Korea and Australia in late 2006, it is absolutely apparent that the Saemangeum sea-gates must be opened further to restore greater tidal exchange, to reduce water quality problems and to restore the remaining areas of healthy tidal-flats (even more so as, one year after seawall completion, there still remains no end-use for any land made by this disastrous project).
In addition, other internationally important sites (such as Song Do, in Incheon, and the Nakdong Estuary in Busan) need to be properly conserved and managed for their internationally important biodiversity.
Further information on the shorebird conservation problems at Saemangeum (and eslewhere) is available in Korean (at: www.birdskorea.or.kr) and in English, at www.birdskorea.org, and on the website of the Australasian Wader Studies Group, including a scientific write-up and an illustrated Korean-English report on the 2006 SSMP.
In the coming months, we aim to continue our awareness-raising efforts and to support related activities (including letter-writing: please see our websites for more information); to work on full reports on the 2007 surveys; and to continue with our ongoing preparations for SSMP 2008 - the year in which South Korea hosts the next triennial Ramsar Convention conference.
We welcome your interest and support!
Acknowledgements
The co-managers wish to thank all members of Birds Korea and the AWSG for supporting the SSMP so ably, and especially to thank all participants, whose dedication and determination has resulted in a very successful series of counts and events. We would also very much like to acknowledge and sincerely thank all private donors, in addition to the enormously important grants recently provided by both the David and Lucile Packard Foundation and by the Takagi Fund.
Danny Rogers, Nial Moores, Phil Battley and Ju Yung-Gi (Co-Managers of the SSMP).
May 28th, 2007.
References
Barter, M. A. 2002. Shorebirds of the Yellow Sea: Importance, threats and conservation status. Wetlands International Global Series 9, International Wader Studies 12, Canberra, Australia.
Moores, N., P. Battley, D. Rogers, M-N Park, H-C Sung, J. van de Kam & K. Gosbell. 2006. Birds Korea -AWSG Saemanegum Shorebird Monitoring Program Report, 2006. Birds Korea publication, Busan.
Moores, N. 2006. South Korea's Shorebirds: A Review of Abundance, Distribution, Threats and Conservation Status. Stilt 50 (2006): 62-72.
Rogers, D.I, N. Moores, & P. F. Battley, 2006. Northwards migration of shorebirds through Saemangeum, the Geum Estuary and Gomso Bay, South Korea in 2006. Stilt 50: 73-89.