Saemangeum Shorebird Monitoring Program 2007
First Count Cycle Update
April 2-8, 2007
Following near-daily counting of the Geum Estuary since March 10th, the Saemangeum Shorebird Monitoring Program (SSMP) 2007 started formally on April 2nd.
Between April 2nd and April 8th, a total of 17 people counted or assisted counting shorebirds at the Geum Estuary (on several dates, with a coordinated simultaneous count on April 4th), Gomso Bay (April 2nd only), and within the Saemangeum reclamation, especially on 7th and 8th (when calmer weather conditions finally allowed some boat-based counting).
While data and leg-flag sightings are still being processed, preliminary results of the counts so far are as below:
Good coverage of Gomso Bay on April 2nd found a total of 1,805 shorebirds, with the vast majority Dunlin (1,627) - a far higher count than achieved at any time there during SSMP 2006.

At the Geum Estuary, repeated counts were made with a coordinated count on April 4th of land-based points and on Yubu Island. In total, 25,982 shorebirds were counted on the 4th, with most numerous being Dunlin (16,641), Great Knot (2,872), Bar-tailed Godwit (2,462), Grey Plover (1,081), Far Eastern Curlew (786) and Eastern Oystercatcher (650). Counts of 168 Sanderling and 46 Ruddy Turnstone were also made. Several individually color-banded Bar-tailed Godwits have been found (one on at least four occasions, in the same area), as has E0, a female Bar-tailed Godwit that had a satellite transmitter placed on it at the nest in the Yukon Delta in summer 2005. Despite the transmitter not working, this same individual has been seen in New Zealand (in both 2005/2006 winter and 2006/2007 winter), again in Alaska (summer 2006) and now at the Geum - twice so far this spring.

Counting within Saemangeum is proving, as expected, rather more difficult. Coordinated coverage on April 8th of the whole outer Mangyeung estuary between the seawall and tidal-flats off Okgu, followed by counting at Hwapo, produced 20,408 shorebirds (clearly, the area is still internationally important according to Ramsar guidelines), with most numerous Dunlin (16,806), followed by Grey Plover (1,154) and Kentish Plover (468). Only 393 Great Knot were logged, most appearing emaciated.

Coverage of the Dongjin estuary has been less comprehensive so far, with counts conducted by boat and at two of the former best land-based sites on 7th and 8th producing only 3,932 shorebirds, with most numerous Great Knot (2,066).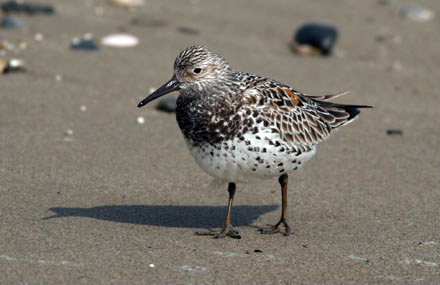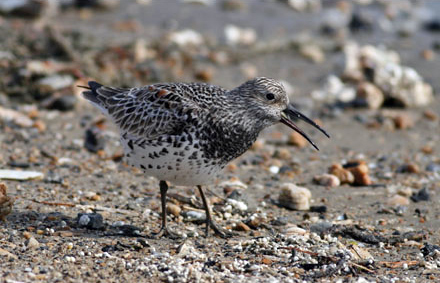 Great Knot at the Geum Estuary, April 2007, Photos © Phil Battley
It is too early to use the data to make clear or detailed statements on impacts of the ongoing reclamation on shorebirds, especially as shorebird migration does not peak here until May. There are, however, already very major differences when comparing the conditions for shorebirds (and for counting) between 2007 and 2006.
Most significantly, since the completion of the Saemangeum seawall (on April 21st, 2006), there has been a massive reduction in tidal movement and tidal exchange within the 40,100 ha Saemangeum reclamation area, from a peak of 7m down to less than 1m. Already by early May 2006, this had resulted in a mass die-off of shellfish beds, and a redistribution of shorebirds within the Saemangeum system. By March 2007, when preliminary surveys were again conducted, the vast majority of shorebird habitat within the Saemangeum reclamation project had already become unsuitable for shorebirds. Moreover, following the reported drowning of some fisherfolk in February this year, the sea-gates have remained largely closed, reducing tidal movement even further and effectively confining shorebirds to a very narrow strip of wet mud along land-based tidal-flats and island-type tidal-flats. For the shorebirds, feeding conditions are therefore far from optimal. For counting, there are no longer regular high tides within the system, and a boat is needed to access those tidal-flat areas found significantly offshore.
By happy contrast, at both Gomso Bay and the Geum Estuary, there have been no major direct changes to the habitat since last year - though local communities have reported a mass die-off of shellfish at Yubu Island (outer Geum). Counting remains concentrated at high tide roosts, supported by counts of feeding birds at low tide.
While we were concerned that the first cycle of counts (covering the early April spring high tides), might be poorly supported, no less than 17 people have so far participated, either counting or assisting counting in the field. Many others have also supported the work behind the scenes, with logistics, translation and donations (very many thanks to all!). In addition, Mr. Cho Hongsup, the environmental reporter from the Hangyoreh Newspaper (a leading national daily) joined the survey work on April 4th (with the first related article to appear probably on April 9), and the SSMP was touched on/introduced in radio interviews, first with BBC Radio (by Dr. Phil Battley on April 3rd) and next on the EBS Morning Special show (by Nial Moores, broadcast on April 5th).
We are now in the advanced stages of planning several meetings in late April and early May to share the SSMP data and to raise awareness,, with an informal photo exhibition and a symposium planned at a university in Iksan on May 4, 2007, between 7 and 9 pm. We will post more details on our websites and to potential participants as soon as they become available.
The next period of high tides that are suitable for counting are between April 15th and April 22nd. Please join us or support us if you can!
Birds Korea, April 09, 2007
Note: Participants of the SSMP 2007 on dates between April 2nd and April 8th (order from date of participation): Geoff Styles, Ju Yong-Gi, Nial Moores, Tony Crocker, Andrew Patrick, Dr. Phil Battley, Dr. Sung Ha-Cheol, Dr. Jung Seok-Hwan, Han Su-il, Park Ye-Chul, Kim Ki-Hyung, Lee Gyeong-Hwa, Peter Nebel, Dr. Robin Newlin, Tabitha Davis, Jake Macllenan and Angela Nebel.