Birds Korea and Australasian Wader Studies Group
Saemangeum Shorebird Monitoring Program: Period 20-30 April, 2006
Summary update: 3 May 2006
Nial Moores/Birds Korea, Danny Rogers/Australasian Wader Studies Group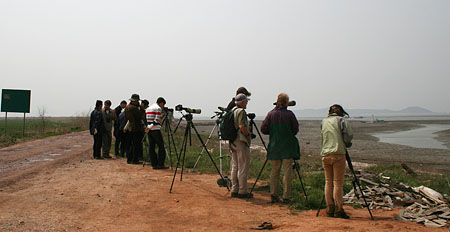 Surveying at Saemangeum, April 30th. Photo © KIM Su Kyung
---
Background
Although the 33-km long Saemangeum seawall was completed on 21 April 2006 (blocking off 40 100 ha of tidal-flats and shallows at the mouths of the Mangyeung and Dongjin Rivers, on the west coast of South Korea), 540 m long sluice-gates have remained open, and the restricted water-exchange has been producing an estimated 1 m tidal range within the Saemangeum system. This compares to a natural tidal range of 7 m at highest spring tides.
Upper tidal-flat areas have become progressively drier through the second-half of the month, and some lower-lying tidal-flats have become permanently covered by water. Local fisherman reported extensive areas of sandflat with dead and dying shellfish north-west of the mouth of the Dongjin River, while beds of dying shellfish were also noted by the Monitoring team at Simpo (between the Mangyeung and Dongjin Estuaries) on 25 April, with puddles of red algal bloom in the same area on 28 April.
Shorebirds have apparently altered their distribution within the system in response to these changes (compared to mid-April and in comparison to previous years), with most species no longer using more upstream areas, and most individuals now concentrated in only a few remaining areas (e.g. off Simpo and Okgu).
Large numbers of Great Knot and Dunlin have been feeding on dead and dying bivalves at Simpo. These shellfish were on the surface of the mud, gaping open, allowing shorebirds to pick out the flesh easily without ingesting the shells. This crop of dying shellfish is proving a very temporary resource, however. The feeding behaviour was first observed on 25 April, and by 29 April shorebirds at Simpo, for example, were feeding far less successfully as the surface bivalves were by then mostly dead and the majority had been picked clean of flesh.
There has as yet been no evidence of any movement of shorebirds (individuals or species) out of the Saemangeum system in the late April period to adjacent areas.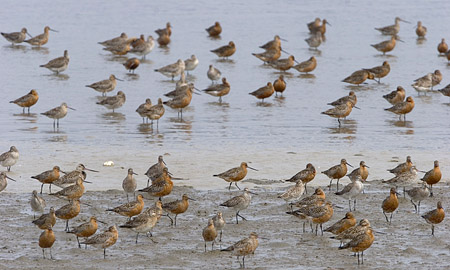 Bar-tailed Godwits, Saemangeum. Photo © Jan van der Kam
Counts
Throughout the period, counts of key areas and leg flag searches were conducted by between 7 and 10 experienced counters daily, with over 10 further persons also involved in the Program during this period (many of these, however, present on only one date, 30 April, when field work was followed by an evening seminar on shorebirds and reclamation, with presentations by Mr. Jan van de Kam and Mr. Kim Hyun-tae).
Over the third series of April spring high tides (25 April to 30 April), repeat counting was also conducted at the Mangyeung, Dongjin and adjacent Geum Estuary, with full counts of the Mangyeung Estuary conducted on 25 April, and again on 28 and 29 April; at the Geum Estuary (including offshore islands) on 26 April; and at the Dongjin Estuary on 27 April.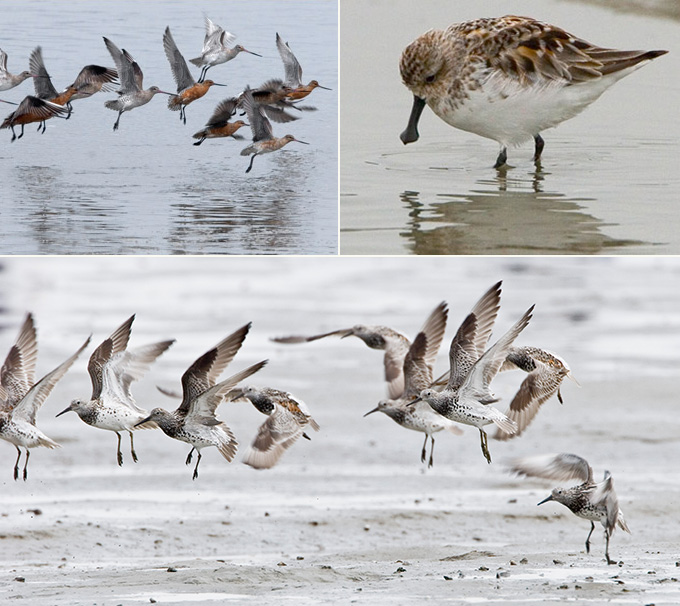 (From top) Spoonbilled Sandpiper Eurhynorhynchus pygmeus, Great Knots Calidris tenuirostris and Bar-tailed Godwits Limosa lapponica Saemangeum. Photos © Birds Korea/Jan van de Kam.
At the Mangyeung Estuary, multiple teams of counters recorded 90, 640 shorebirds of 25 species on 25 April, with a rather similar count of 92, 678 individuals of 26 individuals recorded over 28 and 29 April. Counts were conducted on land, and also by boat at Okgu on 29 April. At least some of the small difference between counts derived from a significant increase in the number of Mongolian Plover recorded between counts, with 343 on 25 April increasing to 1,178 on 28 and 29 April (with a large increase also noted in counts of this late-migrating species in the Dongjin estuary between 27 April and 29 April).

Most numerous species apart from Mongolian Plover were Great Knot (61, 013), Dunlin (24, 849), Bar-tailed Godwit (1, 932), Far Eastern Curlew (876) and Grey Plover (643). Additional Species of Special Conservation Concern included 3 Nordmann's Greenshank on 25 April, with one on 28-29 April; 1 Spoon-billed Sandpiper on 25 April; and 1 Chinese Egret and 4 Saunders's Gull on 25 April.

At the Dongjin Estuary, four teams of counters on 27 April recorded a total of 45, 100 shorebirds of 28 species, with 13, 000 left unidentified (the vast majority considered to be Great Knot and Dunlin).

Most numerous positively-identified shorebirds were Dunlin (13, 480), Great Knot (11, 329), Bar-tailed Godwit (3, 512), and Mongolian Plover (532). Additional Species of Special Conservation Concern included 4 Spoon-billed Sandpiper, 4 Nordmann's Greenshank, one Asian Dowitcher and 10 Saunders's Gull.
Without any consideration of shorebird turnover, and combining only the totals of 27 April (Dongjin) and 28-29 April (Mangyeung) a minimum of 137, 778 shorebirds were present within the Saemangeum reclamation area towards the end of April. This compares with a total of only ca 68, 000 shorebirds recorded within the system on 15 and 16 April, 2006.
Based on counts in previous years, most of this doubling in number can be attributed to shorebird migration strategies, with the peak in shorebird numbers in South Korea typically occurring between late April and early May.
Following claims by the Ministry of Agriculture and Forestry that shorebirds displaced by the Saemangeum reclamation would simply move to the adjacent Geum Estuary and Gomso Bay (see e.g. Birds Korea's MAF rebuttal from 2003), counts were also made at both sites during the period, with near daily coverage at the threatened Geum Estuary).
Four teams of counters conducted a full count of the Geum estuary on 26 April, with one team on Yubu Island, one on an adjacent island (Daecheung Island) and two teams on the mainland.

In total, 51, 568 shorebirds of 24 species were recorded, with most numerous being Dunlin (21, 829), Great Knot (14, 024), Bar-tailed Godwit (9, 416), Grey Plover (2, 371), Far Eastern Curlew (704) and Mongolian Plover (533).

Of very great conservation significance, 43 Nordmann's Greenshank were also recorded, including 35 seen at a single roost (in total, the counts representing between probably 4% and 8% of the world population of this Endangered species), along with 4 Black-faced Spoonbill (Endangered) and ca 14 Saunders's Gull (Vulnerable).

The Geum Estuary count on 26 April reveals a less than 15 % increase over the 45 000 shorebirds recorded on 17 April, when there was slightly less complete coverage.

A further count was also conducted at several points in the more southern Gomso Bay. Previous counts in April on 5th and 15th found only 38 and 4 individual shorebirds respectively.

On 27 April, 727 shorebirds of 8 species were recorded, with most numerous being Whimbrel (609) and Common Greenshank (55), both relatively late spring migrants to South Korea.
---
Sightings of leg-flagged shorebirds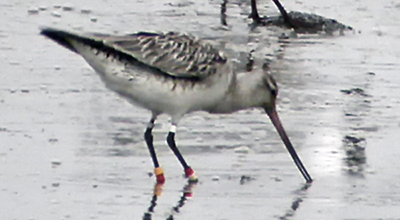 Leg-flagged/colour-ringed Bar-tailed Godwit Limosa lapponica, photo © Nial Moores
During the period, flag sightings and observations of individually-marked shorebirds were achieved within the Saemangeum reclamation area and at the Geum Estuary.
During the whole of April, the Monitoring team made approximately 250 such sightings.
---
Whats next?
A further series of counts will be conducted over the spring high tide period in Mid-May; and then repeated in spring 2007 and 2008 (volunteers and funding are already being actively sought!).
A fuller report of the Program in 2006, with spreadsheets of counts and some basic analysis of results, will be prepared over the coming months.
---
Citation and Reproduction
Earlier count summaries from April have already been posted on several English-language list-servers, on the Birds Korea websites (in English and Korean) and on several other Korean-language websites. All such information is based on highly valued contributions from a number of international and domestic participants. It is provided freely and openly, with permission for (and hope of) online reproduction on other websites and by other organizations etc.
Respectfully, Birds Korea and the Australasian Wader Studies Group would appreciate clear citation of source for such online reference (i.e. as data from the Birds Korea/Australasian Wader Studies Group 2006 Saemangeum Shorebird Monitoring Program), and a request for permission to reproduce in printed form.
Nial Moores, Birds Korea
Danny Rogers, Australasian Wader Studies Group