The Saemangeum Reclamation Project: A symbol of South Korea in the World.
As waves of shorebirds arrive in Korea from Australia, New Zealand and Southeast Asia, it is once again time to ask: why is Saemangeum still not being given the depth of coverage it deserves?
Consider the following:
Saemangeum is the world's largest ongoing tidal-flat reclamation project.

It threatens populations of migratory species, some like the Spoon-billed Sandpiper of extremely high global conservation concern.

It is a project that sadly and starkly reveals the immaturity of South Korean government development policy, and the weakness of environmental legislation in one of the world's largest economies.

It is a clear example of the cost of all-out development without consideration for the environment.

The project threatens the livelihoods of many local people.

The project is undermining South Korea's international image, and it has the potential to tarnish a long list of other multi-million dollar projects bid for by some of the world's largest companies.
The project, seen by a growing number as inevitable because "so much has already been spent", is still a long way - a very long way - from completion.
The outer seawall is still not finished;

the inner dykes have not been started;

the roads and water purifying plants, the drainage channels and reservoirs, are nothing but lines sketched on rough diagrams.
They will cost very much more to construct than the money already spent, draining the national economy at the same time as draining some of the nation's most valuable natural resources: its tidal-flats and shallow seas.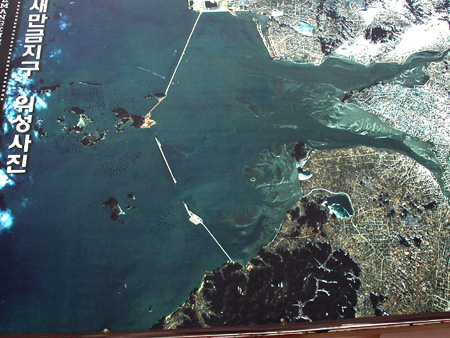 The present (left) and the future (right)?
Where 400,000 migratory shorebirds will feed after the reclamation is not made clear in the second diagram...
Like to download larger images? Please go to
Saemangeum April Images
.
The Saemangeum reclamation is a story that needs to be told, and to be told well, yet informed debate on this project is still seldom heard.
Maybe the scale of this massive project is just too overwhelming?
Yet the reclamation, as well as revealing the very worst side of South Korea, also reveals the very best.
It reveals the passion, the honesty and the beauty of this nation.
It reveals South Korea as a young democracy, with courts strong enough to rule in favour of law rather than politics; a vibrant and spiritually-rich country, where Buddhist and Christians marched together in a grueling sambo-ilbae; where a growing number of environmentalists, fisher folk and concerned local citizens rally together in peaceful, yes peaceful, protest as proof of a healthy Civil Society; where the tidal-flats and estuaries, and the clouds of migrant birds, reveal the extraordinary beauty and value of Saemangeum and South Korea to national and global diversity alike.
In our role of supporting much larger domestic organisations (like KFEM and Green Korea), Birds Korea has remained focused on revealing Saemangeum's international value:
We have worked with Korean journalists and researchers; we have worked with BBC World and journalists from otherinternational media; and we have worked for years with numerous international experts and organisations.

We have focused on the migrant birds (our area of expertise) and tried to explain the benefits to South Korea to be gained by canceling the project.
But we are only a small group.
We are working hard, but with a combined national and international membership of a little over 400 persons, Birds Korea lacks the power to convince national media and politicians, or media and governments around the world, of the importance of this single incredible place.
We realise that we cannot reveal the beauty of Saemangeum and the people that depend on it by ourselves, and this is why we are supporting a number of modest international-based initiatives, and asking people around the world to help us win success.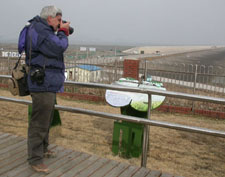 For example, in March 2005 we assisted Dr. Charles Page (left), a professional photographer and professor at the well-respected Queensland College of Art, to collect images of the landscape and fisherfolk of Saemangeum. His high-quality images will be used for exhibitions on Saemangeum: through his lens the beauty and the ugliness can be revealed.

In June, we will guide a group of high scholl students from Hawaii, to spend two days looking at the tidal-flats, meeting with local people, learning about the decisions behind the project – in the belief that this will be one early step towards the creation of school networks.

Later still we will support the visit of a leading environmental youth activist (and Birds Korea member) Toby Newlin from the United Kingdom. Toby Newlin has already attracted media coverage both in South Korea and the UK for his excellent work gathering international petitions opposing the Saemangeum reclamation, an issue to which he remains deeply committed.
Perhaps most importantly we are also working hard to increase the involvement of researchers and birders from around the world. We want to match the slowly increasing awareness with increasingly good and useful data and are therefore appealing now to birders and researchers alike to join in early discussions on developing a scientifically rigid counting program at Saemangeum, for implementation next year.
We need to gather and then disseminate solid data on shorebirds and threatened species like the Black-faced Spoonbill, gathered with a methodology that can win the trust of environmental ministries around the world. Data that, if needed, can reveal clearly the impact of the reclamation before and after the sea-gates close.
If the reclamation is cancelled, let us know more clearly what we have saved…and if the reclamation continues, let the world know what is being lost.
For now though we can make some very confident predictions:
The reclamation of Saemangeum - if it is allowed to continue - will have enormous impacts on migratory shorebirds.

Numbers of several species of shorebird will decline noticeably throughout the East Asian/Australasian Flyway.

Other reclamation tidal-flat reclamation projects will continue, many unchallenged.

Much of the stunning coastal landscape and important culture of Korea's fishing communities will be lost.

Offshore fisheries will continue to decline, as will species that depend on the fisheries, from cetaceans to seabirds to people.
But if the Saemangeum reclamation is cancelled and the tides, like now, continue to flow?
We can expect the waves of shorebirds to continue feeding here, as they have done for millennia.

We can expect the rebirth of local economies, focused on eco-tourism and fisheries and culture.

And we can expect a significantly more sustainable, healthy and prosperous future.
It is surely worth the work!
Birds Korea, April 1st, 2005
For a much more detailed explanation of Saemangeum, its shorebirds and the impacts of reclamation on shorebird populations, please go to our 2003 online report at www.birdskorea.org//Habitats/Wetlands/Saemangeum/BK-HA-Saemangeum-MAFrebuttal.shtml.
(This online report was produced with very significant input from some of the world's leading shorebird and wetland management specialists).