The Miranda Shorebird center, situated on the Firth of Thames of the North Island, New Zealand, is an excellent example of a well-run, internationally linked and protected shorebird site. The center itself is situated on the edge of an 8500 ha area of intertidal mudflat, shellbank and saltmarsh area, which is used by thousands of shorebirds each year as their non-breeding grounds. Miranda has been a Ramsar site since 1990, and an East Asian-Australasian Shorebird Network Site since 1996, demarking the area as extremely important to shorebirds.
Begun as a site for the buidling of an observatory in 1975, the center evolved to include the present-day building in 1990, and has been open seven days a week since 1993, opening its doors to 12,000 national and international visitors a year.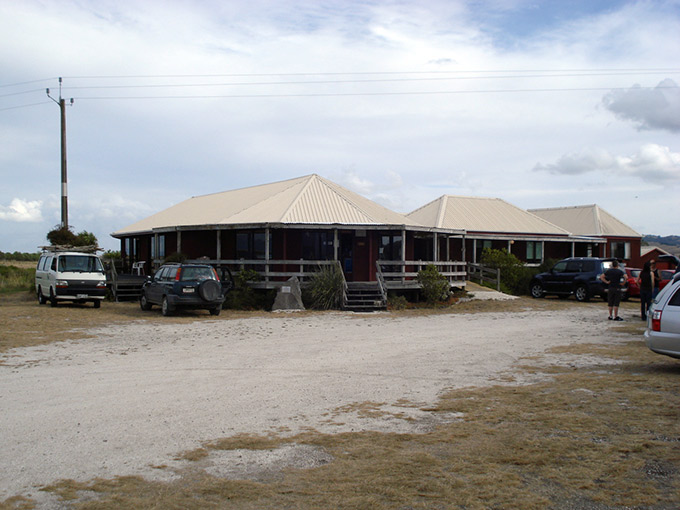 The Miranda Shorebird Center, which holds the education center, gift shop, rooms and study areas.
Photo © Geoff Styles
The Center itself is used for many educational programs, and is the place where tourists come to gain information on a number of shorebird-related topics, such as migration, breeding patterns of various types of shorebirds, conservation of wetlands and the importance of sites around the world such as Miranda. The Center is charitable trust, and as such benefits from individual donations made to the Center in the form of bequests, and, endowments. Visitors to the center can also stay overnight, as there are two motel style units and a number of rooms offering bunk beds with a shared bathroom. This is another way the Center makes income. Other sources of much-needed funding come from the gift shop at the entrance to the Center, and through membership fees collected from the 700 members.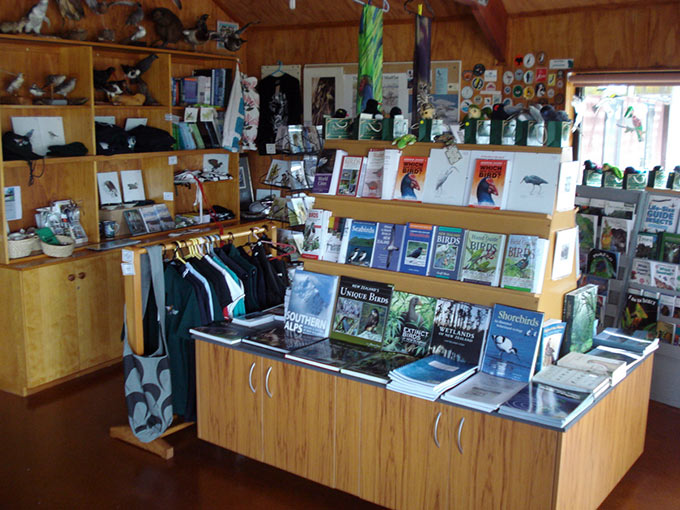 One of the avenues of earning money for the center, a gift shop selling books, pottery and clothing.
Photo © Geoff Styles
This funding allows the Miranda Shorebird Center to do a variety of educational-based projects. For 10 years now, the Center has run Field Courses, taking members of the public on a 6-day course which introduces them to the world of shorebirds. They learn about ecology, conservation, the shorebirds themselves, and then get to participate in cannon-netting and mist-netting, which are two ways to catch wild birds in order to band them. Many of the graduates from this program stay involved with Miranda after their course is finished, either through membership, or through volunteering to help the Center on other educational projects.
The center also runs courses in Art, and host public school educational field trips, university student club trips and Community club outings. On top of this, they are also involved in New Zealand Dotterel management, where, among other things, they educate government agencies involved with the Dotterel. This project, among others, provides an excellent avenue to create a successful relationship with the governing bodies of the area, whether that be local government or the National body, the Department of Conservation.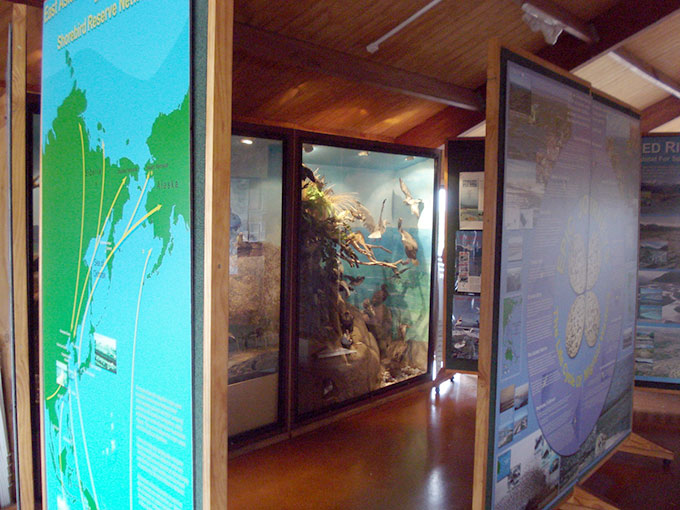 The Center focuses heavily on education, which these large panels display effectively.
Photo © Geoff Styles
The funding also allows the Center to hold one full-time employee, who sees to the day-to-day running of the Center. Meeting and greeting visitors and helping them learn about shorebirds and Miranda is just one of the important duties of this employee. Having a person there each day is vital to the success of the Center, as there are now about 12,000 visitors coming here every year, each one greeted at the door. Having a person on site for these visitors makes their experience that much more valuable, and, in turn, helps create greater public knowledge of shorebirds and the threats to their habitat. The manager is also very involved in Field courses and hosts many public groups that come to Miranda for a field trip. In addition the Center employs one part-time employee, and is helped by a core of about 30 volunteers.
The Center makes its major decisions through a 10-person council, with an Annual General Meeting held at the Center itself. This council has stayed fairly stable through the past few years. There is also a treasurer and a Chairman. This body has helped guide the Center to becoming one of the most successful shorebird sites in New Zealand, as through education and advocacy, the site has become known as an extremely important site for over-wintering birds. Shorebirds use the extensive intertidal mudflat area for feeding on ebbing and rising tides. As the tide moves in, the birds retreat to the shellbanks and saltmarsh ponds to roost and preen, waiting out the high tide.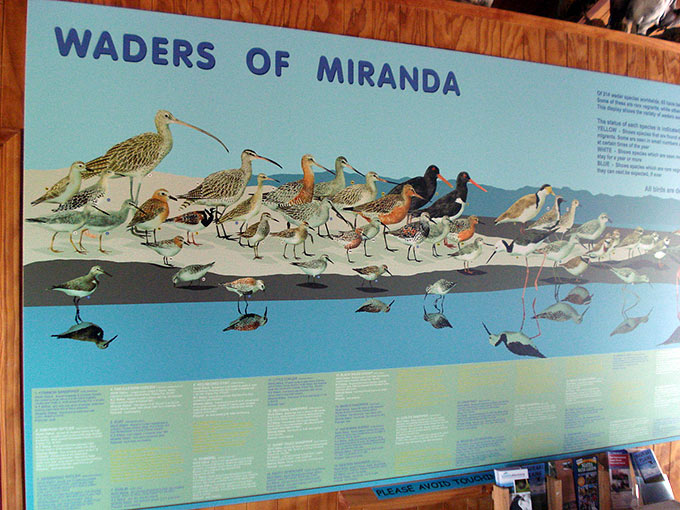 A painting of the birds found at Miranda, this helps visitors learn about what they're going to see.
Information on each bird is written at the bottom of the painting.
Photo © Geoff Styles
The migratory birds are joined at Miranda by a host of resident shorebirds, including Pied Stilt, New Zealand Dotterel, Banded Dotterel, Pied and Variable Oystercatcher and the enigmatic Wrybill, a New Zealand endemic. Some 2,000 Wrybill use this site regularly as their non-breeding grounds, representing 40% of the world population. 15,000 Pied Oystercatcher also use this site, representing 12% of their world population. Bird numbers during the months of September through March, however, are augmented by the arrival of the Arctic migrants.
Each northern winter, thousands of migratory shorebirds come here during their non-breeding months. Of international importance, 8,000 Bar-tailed Godwit use this site, representing 3% of world population. These birds make one of the most amazing migrations on earth, flying non-stop on southern migration from Alaska to New Zealand, covering over 11,000 km in the process! 6,000 Red Knot also use Miranda, which represents 6% of their world population. Both of these percentages are greater than the Ramsar guideline of >1%, a percentage which, if met, makes the site an internationally important site worthy of protection. Other Arctic migrants that visit the mudflats are Red-necked Stint, Sharp-tailed Sandpiper, Ruddy Turnstone, Grey-tailed Tattler, Pacific Golden Plover and the occasional Eastern Curlew.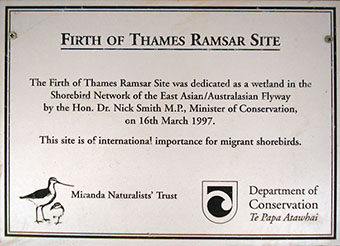 Photo © Geoff Styles
The Center has also been thrust into the international spot light, as they have become involved in international projects along the East Asian-Australasian Flyway, including South Korea and China. Representatives of the Miranda Shorebird center have joined with Birds Korea and the Australasian Wader Studies Group (Australia) in counting during the 2006 and 2007 Saemangeum Shorebird Monitoring Program. Representatives of Miranda will also take part in the 2008 count cycle. This program, created to assess the impacts of the 40,000 ha Saemangeum reclamation project on migrating shorebirds, has been increasingly reported in international news, and is well-known around Miranda. Done during the two-month high-tide cycle of April and May, the program itself has become internationally recognized, and it has been with the help of experienced shorebird counters like those from Miranda that the scientifically rigid data gathered during the process has held up to international critique.
The Miranda Shorebird center has also worked closely with the shorebird experts at Yalu Jiang National Nature Reserve in northern China. These two sites established a Partnership Agreement in 2004, and representatives from Miranda have gone to this site each April since that time, helping the local body assess habitat and survey shorebirds. This is the most important stop-over site for Bar-tailed Godwit on northern migration, making this partnership a very good match. Surveys of this area have helped the international community see the importance of the Yalu Jiang, and it has been through the help of Miranda that funding and protection schemes for that area have been found.
The Miranda Center has also partnered with the USGS Alaska shorebird team, Point Reyes Bird observatory, and Massey University in monitoring the Bar-tailed Godwit's amazing migration through satellite telemetry. In February 2007, a team from Alaska came down to Miranda to catch Bar-tailed Godwits and implant transmitters into the birds, allowing them to track the birds' progress as they migrated. They met with fantastic results, as one bird flagged 'E7' was tracked through her entire migration, from Miranda through Yalu Jiang into Alaska in the Spring, and then non-stop from Alaska to Miranda in the Fall, an amazing 29,000 km! February 2008 saw a larger team come down from Alaska, and a total of 9 birds were successfully implanted with transmitters. Hopes are high that this year's project will solve more mysteries of the birds' massive journey, and spur interest in more members of the public both in New Zealand and abroad.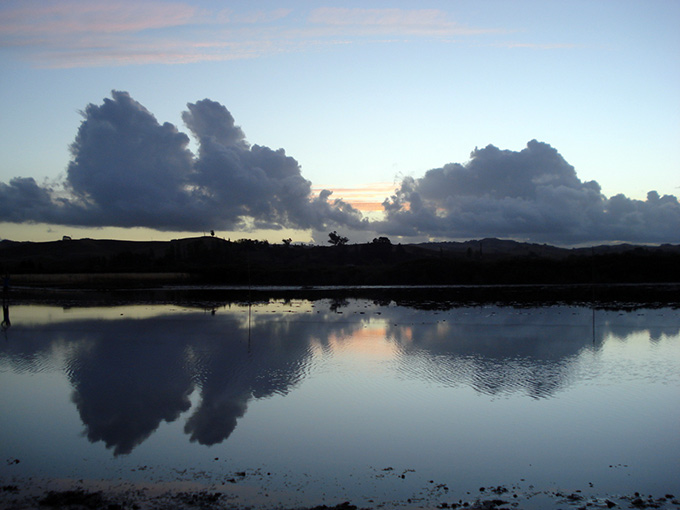 At high tide, the shorebirds fly into these pools to roost.
Photo © Geoff Styles
As shorebirds are themselves 'international' birds, these projects are of utmost importance to the success of each shorebird species. It is with these types of international partnerships that the fate of so many threatened shorebirds rests. With a base of only 700 members, the Miranda Shorebird Center has managed to not only protect the local 8500 ha of wetland, but educate thousands of visitors on shorebirds and shorebird-related topics, raise awareness about the importance of shorebirds and wetland conservation, and reach out to the international community to help survey and protect wetlands on the East Asian-Australasian flyway. With growing engagements with both China and South Korea, and greater interest locally, the future looks bright for the Miranda Shorebird Center, an excellent example of a well-run and effective management site.