Oriental stork Ciconia boyciana, Photo © AviFauna
AviFauna is a Swedish travel agency for birdwatchers that arranges birdwatching-trips to countries all over the world. We visited South Korea for the first time in February 2006 and we just completed our second tour, in February 2008.
The AviFauna-trip to South Korea 2008, co-led by myself (Anders Blomdahl) and by Nial Moores (the director of Birds Korea) was a true success. We saw all those species that we had wished for and more, including all the important and globally rare species that are wintering in this bird-filled country, while we also learned much about the country itself, Korea.
In 12 days, we traveled round from the frozen Cheorwon in the north to the East and West coasts, and then south to Busan and Jeju Island, being met at each and every place by always very kind and helpful people. The birds were marvelous too! We saw Swan Goose, huge flocks of Baikal Teals, two Baer's Pochards, Scaly-sided Mergansers, displaying Oriental Storks, Black-faced Spoonbills, marvelous views of Stellers's Sea-Eagle, Hooded, White-naped and Red-crowned Cranes, stunning views of Solitary Snipes, good numbers of Saunders's Gulls, Relict Gulls, Pallas's Rosefinches and much, much more. These species are true dream-birds for Scandinavian birdwatchers, and many of them are also globally threatened, because of habitat loss. Seeing these species in South Korea it is easy to understand how important South Korea is at the world level for wintering and migrant birds!
On the other hand, apart from all the marvelous people, places and birds that we saw, we also saw former tidal flats converted to industrial areas; we witnessed hunters shooting illegally at Baikal Teals; and we saw Arctic and Pacific Loons stained with oil. We saw too how Saemangeum is turning from one of the most important feeding areas for migrating shorebirds in the world to an area for yet more golf courses and hotels, and we saw the Miyeonji motorway bridge being built right over the lovely and bird-filled Nakdong Estuary in Busan. We also heard about the unbelievable plans for turning beautiful rivers like the Han and the Nakdong, that support wintering Scaly-sided Mergansers, into huge, straight concrete canals for ships! All such things made all of us very depressed. It helped us to realize deeply how important bird and habitat conservation organizations like Birds Korea are for the future of this great country. Because of that, AviFauna has decided to donate 1500 US Dollars to Birds Korea, to help support their hard work in protecting and conserving both birds and their natural habitats in South Korea. Please, Birds Korea, Keep up your good work!
For AviFauna Nature Tours, Sweden:
Anders Blomdahl (Tour Manager)
Ronneby, Sweden 9 March 2008
Steller's Sea Eagle Haliaeetus pelagicus, Photo © Anders Blomdahl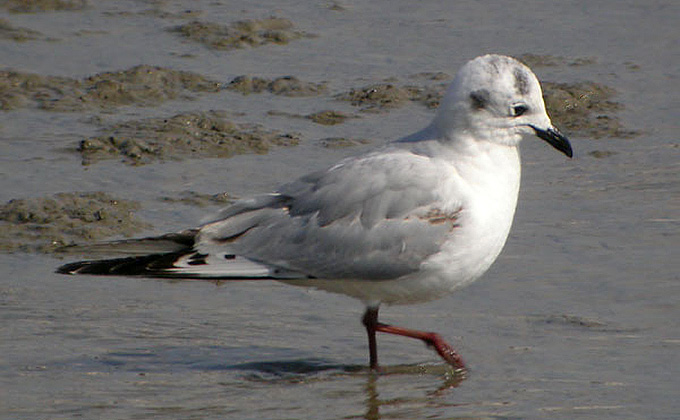 Saunders's Gull Larus saundersi, Photo © Anders Blomdahl
Solitary Snipe Gallinago solitaria, Photo © Anders Blomdahl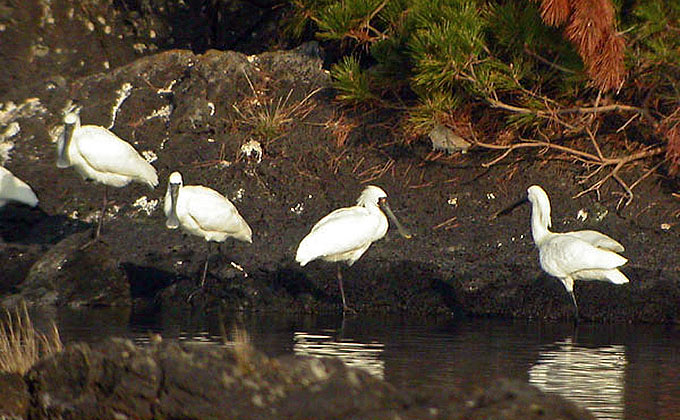 Black-faced Spoonbill Platalea minor, Photo © Anders Blomdahl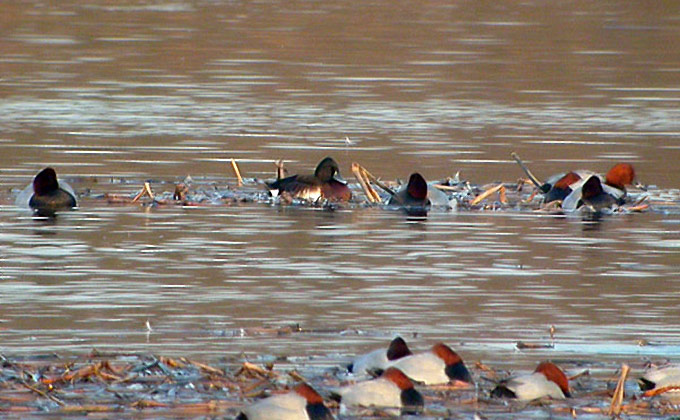 Baer's Pochard Aythya baeri, Photo © Anders Blomdahl
A detailed report in Swedish language can be read here.