Lesser Frigatebird Fregata ariel
This frigatebird was digi-scoped by Juergen Steudtner from Socheong Island in the Yellow Sea on August 9th.
Watched on and off for two hours in the evening with Thomas Heinicke, initial identification was made as Lesser Frigatebird Fregata ariel, a species recorded several times previously in South Korea. Subsequent study of the images seemed to reveal several features that were perhaps also shown by Christmas Island Frigatebird Fregata andrewsi, and a request for identification was made.
Following correspondence between Juergen and David James (author of an identification paper on Frigatebirds in the latest OBC Bulletin) identification has now been established as a juvenile Lesser.
David's comments are summarised thus:
"Greetings from Christmas Island. I would say that your frigatebird is a juvenile Lesser Frigatebird. The exact head colour [referred to in your mail] doesn't really matter - buff, cinammon, or rusty. The black breast band is complete, so the bird is in 1st calendar year. The belly patch is roughly triangular with the axillary spurs forming extended corners of the triangle: this eliminates Great Frigate. The spurs do not angle forward very much. The bill, though longish, is not extremely long. The alar bars on the upper wing are not overly bold. These 3 points safely eliminate Christmas Island Frigatebird. Apart from my recent article, you might also find Chalmers (2002) useful..."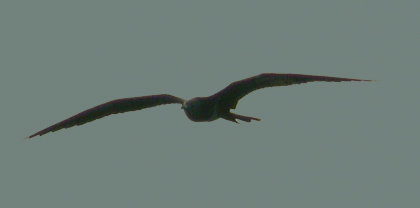 Lesser Frigatebird, Socheong, August 2004. © Juergen Steudtner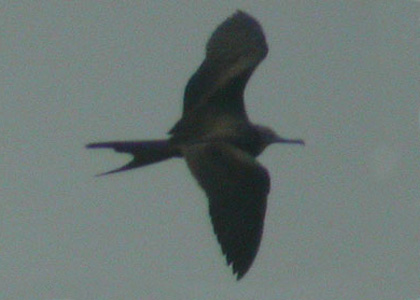 Lesser Frigatebird, Socheong, August 2004. © Juergen Steudtner
Lesser Frigatebird, Socheong, August 2004. © Juergen Steudtner
Lesser Frigatebird, Socheong, August 2004. © Juergen Steudtner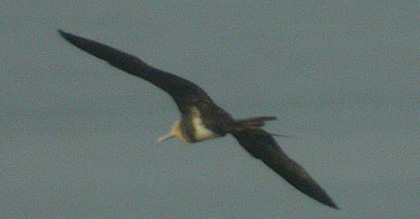 Lesser Frigatebird, Socheong, August 2004. © Juergen Steudtner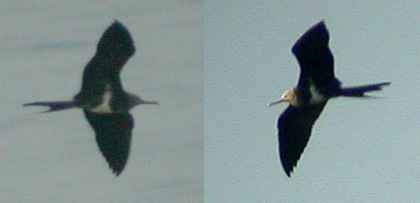 Lesser Frigatebird, Socheong, August 2004. © Juergen Steudtner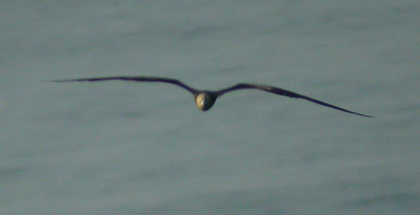 Lesser Frigatebird, Socheong, August 2004. © Juergen Steudtner

Lesser Frigatebird, Socheong, August 2004. © Juergen Steudtner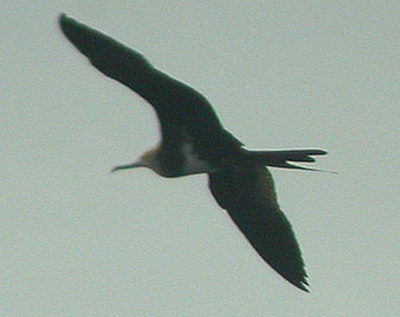 Lesser Frigatebird, Socheong, August 2004. © Juergen Steudtner
Lesser Frigatebird, Socheong, August 2004. © Juergen Steudtner