Records of Drongos in Spring 2003
Black Drongo Dicrurus macrocercus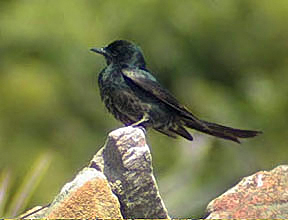 Black Drongo, Photo © Lee Kyung-Ho
Recorded only ca 5 times in South Korea prior to 2003, with most records coming from Gageo Island in May (where one recorded on May 27 2000, one on May 4th 2001, and 2 on May 29th 2001: all Nial Moores). In 2003, first recorded on May 1st-2nd on Heuksan Island (Park Jong-Gil), with an arrival on Eocheong Island on May 8th of at least 15. At least 5 were still present there on the 9th, increasing to 10 on 10th- 11th, with eight on the 12th, eleven on 13th - 14th, 8+ on 15th and 5+ on May 16th. In Gunsan city near the airport, 3 were present on May 10, with one still present there on May 11 (Peter Nebel), while on Hong Is. one was found on May 10th (Park Jong-Gil), with one still present on May 12th (Lee Kyung-Ho), and a further 6 on Daehuksan Is. on May 13th (Park Jong-Gil).
Update: A further record is of one at Seosan photographed by Kim Hyun tae on June 30th.
Black Drongo, Photos © Nial Moores
Three Black Drongos, Photo © Nial Moores
Eight Black Drongos and a Grey Starling,
Photo © Nial Moores
Ashy Drongo Dicrurus leucophaeus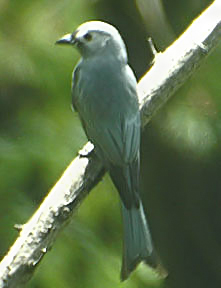 Ashy Drongo, Photos © Nial Moores
One, of the subspecies leucogenis, on Eocheong island found and photographed by Nial Moores on May 7th and relocated on the 8th (Nial Moores, BP and BJ), constitutes about the third for South Korea (with one previous record on Pyeonganbuk-Do in October 1961 coming from the DPRK). The two previous records from the South both come from Gageo island (May 21, 2000, MB and Nial Moores; October 22, 2001, Nial Moores).
Spangled Drongo Dicrurus hottentottus
One on Hong Do found and photographed by Park Jong-Gil on May 10th was apparently still present on May 12th (Lee Kyung-Ho). This is believed to constitute the second record for South Korea.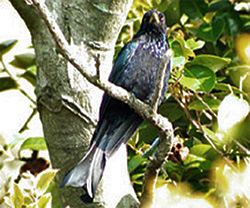 Spangled (Hair-crested) Drongo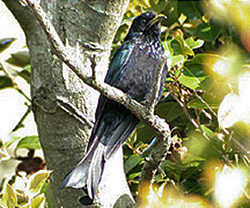 Photos © Park Jong-Gil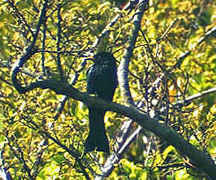 Spangled Drongo.
Photo © Lee Kyung-Ho