The Spoon-billed Sandpiper
Nial Moores, Birds Korea, September 2003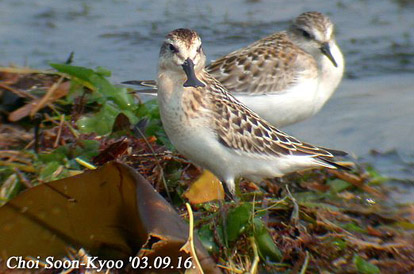 Juvenile Spoon-billed Sandpiper, © Choi Soon-Kyoo
Few species are as charismatic and as high up on birders' "to see" wish lists as the Spoon-billed Sandpiper Eurynorhynchus pygmeus - rare and fast-declining, breeding in the most remote regions of northeast Russia, with unconfirmed wintering grounds (presumed centred in Bangladesh), it is the stint with THAT amazing bill, an evolutionary wonder. It is also the species that first persuaded me to pack my bags and give up life in the UK for one in the far east; the one that got me ever deeper into conservation; and perhaps the only species that still makes my knees go weak every time I see it - even after a hundred or so encounters. It is also a species whose very future is intertwined with the future of some of the greatest coastal wetlands of eastern Asia - the tundra and bays of Chukotsk, Korea's Saemangeum, Hong Kong's Mai Po and Deep Bay, the Inner Gulf Of Thailand…
Once considered to be a sporadic but common breeding species along the shores of the Chukchi Peninsula, the population has certainly altered since the late 1870s when, according to Nordenskjold (1881) it was encountered in such large numbers by members of an expedition "that they found their way to the officer's table on many occasions" (Portenko 1972).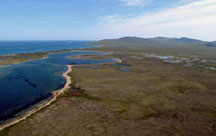 Classified in the Asian Threatened Birds Red Data Book as Vulnerable (with a population optimistically estimated at between 2 000 and 2 800 pairs in 1977), the Spoon-billed Sandpiper is now better regarded as Endangered, with a population perhaps now as low as just 300-500 breeding pairs (Pavel Tomkovich, 2003 in lit) (and based on the small number of juveniles recorded in recent years on migration, a total population of probably less than 3 000 individuals).
It is also thought to be fast-declining, based especially on declines in records from Japan and elsewhere on migration, and more significantly from research being conducted on the breeding grounds. The reasons for the decline are not certain, but they probably include excessive predation at the nest, and perhaps even more critically, the loss of key staging sites - especially in the Yellow Sea (Pavel Tomkovich, in lit.).
Recorded in small numbers in Hong Kong, the Hebei Coast and especially South Korea in spring (with personal high counts of 8-10 on April 24th, 2001, and 6 on May 14th, 2002), Spoon-billed Sandpipers typically have arrived on their far northern breeding grounds (right) by the second week of June.
Spoon-billed Sandpiper chick,
Photo © Weiting Liu.
The species nests in two major zones in the western Bering Sea in far northeastern Russia - primarily selecting a narrow habitat niche of sparsely vegetated ridges in dune slack systems or at stream mouths, though two nests were found this summer 6km from the sea in southern Chukotsk (Zöckler, 2003).
The breeding season coincides with the explosion of life typical of most far northern tundra: breeding in mid-June, hatching in the first week of July; fledging by late July or mid-August. By early August, most adults have already started to leave their breeding areas, followed by juveniles in mid-August.
Recent survey initiatives, organized by the Russian Academy of Science, have found significant declines in numbers of territories occupied, and also high mortality of chicks, largely through predation by Arctic Foxes Alopex lagopus - especially in years when lemming numbers are low.
Banding is now carried out during these surveys in the hope of tracking which wetlands are being used on passage and in winter. On August 24th 2003 Kashiwagi Minoru of JAWAN, Evgeny Syreochkovski, Jr., and Dr Christoph Zöckler (amongst others) returned from the southern coast of the Chukotka Peninsula on an expedition that banded/flagged 56 adults and about 80 juveniles with a pale green flag and combination of individual rings - as well as c 50 Dunlin.
Dr Zöckler has forwarded an interim report of this year's expedition, and we've posted this at

Spoon-billed Sandpiper expedition to South Chukotka (2003).

The posting also carries some excellent images from Kashiwagi-san.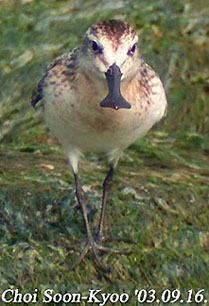 In South Korea, the first adults, many still largely in breeding plumage, are found in mid-August, followed in September by much smaller numbers of juveniles.
Although there is at least one record of 200 Spoon-billed Sandpipers in the Nakdong estuary (in 1970: pre-barrage and part-reclamation), the vast majority of records are now from Saemangeum, with just a few individuals turning up along the south and east coasts (such as the confiding juvenile at Gangneung on September 16th, 2003 (right)), and probably annually at a few other favored sites on the west coast such as Ganghwa in the far northwest.
By far the highest numbers recorded nowadays are coincident with the highest tide cycles at Saemangeum - 30 000 ha of tidal-flat inundated by the 7 m tidal-range. Autumn records there and elsewhere in South Korea, largely span early August to mid or even late October.
Within the extensive Saemangeum estuarine system, most are seen roosting up at Okku salt-pans on the northern shore of the Mangyeung River, with smaller flocks found at Simpo and on the Dongjin. Sometimes they are with Red-necked Stints Calidris ruficollis, though often they seem to be loosely associating with Kentish Plover Charadrius alexandrinus dealbatus, and most numerous when there are also good counts of Broad-billed Sandpiper Limicola falcinellus (surprisingly, an occasional confusion species at long-range). By the end of August, and increasingly through September numbers continue to build - with the highest ever peak counts of 180 at the Mangyeung in 1998 and 200-250 in the Saemangeum system in 1999 (Park Jin-Young pers. com; www.rdb.or.id).
My own personal count at that time included a single flock of up to 76 at Okku, all stretched out in a line, most rusty-necked and speckle-breasted, with paler heads and grayer mantles, curiously swaying their heads nervously from side-to-side as the first patches of mud appeared on the falling tide. Unforgettable.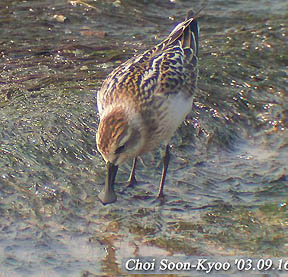 Juvenile Spoon-billed Sandpiper, © Choi Soon-Kyoo
Numbers in subsequent autumns seem to be in decline, especially at Okku (perhaps a result of changes to the substrate due to the reclamation work but also perhaps because of a decline in survey effort), with a personal peak count in 2002 of "only" 15 (14 adults and 1 juvenile on September 10th). In 2002, birds were nonetheless seen on each visit to Okku between August 22nd (6 adults) and September 26th, with still 3-6+ on October 22nd, and one on the 24th (Arnoud van Den Berg and Magnus Robb in lit.).
In 2003, records in autumn have so far included the juvenile (in the images above) on September 16th at Gangneung City, a flagged juvenile at Okbong-ri (Saemangeum) on the 21st (see September Bird News for a photograph), 4 adults and 3 juveniles (none of them flagged) at Okku on the 27th, and at least 10 (and possibly as many as 15-20) at Okku on the 29th.
This brings the number of Spoon-billed Sandpipers seen on the outer Mangyeung estuary alone, on just four visits in September 2003, to at least 13 adults (possibly 20) and 4 juveniles. Considering the small part of the Saemangeum estuarine system actually visited, the difficulty of picking out all the individuals from amongst flocks of several thousands of other shorebirds, and given the turnover rates of birds through the system, the actual total number of Spoon-billed Sandpipers using the system through the autumn is obviously likely to be rather higher.
Although it has over-wintered at least once in Hakata Bay, southwestern Japan, in the 1990s, Birds Korea has heard of no mid-winter Spoon-billed Sandpiper records from Korea.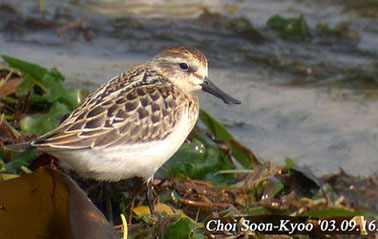 Juvenile Spoon-billed Sandpiper, © Choi Soon-Kyoo
From South Korea and the Yellow Sea, the species is therefore presumed to migrate to largely unknown wintering grounds, with the highest count ever made of 257 in the Padma-Meghna Delta in 1989, suggesting Bangladesh is probably their main destination: even more extensive than Saemangeum, the intertidal areas have similarly complex substrates, apparently including the preferred sand-mud mix areas (www.rdb.or.id).
Very small numbers perhaps winter both in the Mekong, on sandy beaches with Kentish Plover (pers. obs), and the Red River Deltas in Viet Nam, while it is also an annual and very well-watched species at Khok Kham in Samut Sakhon, Thailand.
Philip Round has provided the following information on the Samut Sakhon records: "The first Spoon-billed Sandpipers, four birds, were located here on 8 March 1995. Although at least two of these birds were subsequently seen by other observers in succeeding days, there was no further checking of this site until mid-February 1999, when a single Spoon-billed Sandpiper was located. At least two birds have been present in every autumn, winter and spring since then, with sightings of three individuals in late January to early February 2003 and an undoubted four birds in early February 2002. The habitat is salt pans, ca. 2 km from the coast, and the Spoon-billed Sandpipers typically frequent the same few pans, feeding around the margins of those pans not in current use, where a thin film of water lies over the mud or where soft mud and shallow water are both present. The Khok Kham site is far from secure, however. Although it lies on government land, established as a salt-farm, cooperative, local business interests are seeking to develop the site. A textile factory is under construction on part of the site, and adjoining areas, outside the cooperative, are being impacted by land speculation and the development of housing estates.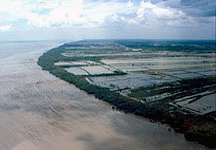 Thailand Gulf flats
The fact that one small area of the Inner Gulf supports up to four Spoon-billed Sandpipers inevitably raises speculation that there could be further birds, scattered at low density throughout the coastal belt, though none have yet been located. However, the areas of potential habitat are quite large, and are estimated by Erftemeijer and Jukmongkol (1999) to include ca. 235 km2 of tidal flats, 400 km2 of low-intensity prawn-ponds, including abandoned ponds and dry flats, and ca. 320 km2 of salt-pans."
Following this somewhat prophetic mail, Phil Round wrote to Birds Korea on 20 Dec 2003 to say that at a second Spoonbilled Sandpiper (presumed-) wintering site, Ban Pak Thale, he had just seen no fewer than eleven birds (nine together simultaneously on the same pond), adding that "since they were in shallow water, I could not see for sure whether any might have been ringed/colour-ringed, but I do not think so." This is the largest Thai count since 13 were found in Pattani Bay, close to the Malaysian border in October 1984. Once again, this site is threatened by development projects in the Inner Gulf of Thailand...
The Spoon-billed Sandpiper: a charismatic, highly-specialised, monotypic species totally dependent on the productive wetlands of the East-Asian/Australasian Flyway - wetlands that are threatened by reclamation, development, pollution, increased use for recreation, all threats that are directly attritutable to another species also dependent on wetlands - our own. Wetlands are the nurseries for huge numbers of fish, the filters of our water, open spaces that give us the chance to experience biodiversity and natural rhythms. Can we really afford to pursue a "development at all costs" policy when the costs all round are going to be so high?
We are very grateful to Choi Soon-Kyoo for permission to use the superb images reproduced above. Thanks also to Philip Round for his input, which will be incorporated into a separate longer posting at a later date.
Finally, thanks to Christoph Zöckler and Kashiwagi Minoru for details of the South Chutotka expedition.
Please support this important flagging/banding initiative. We would be happy to pass on any banding/flag records to the relevant scientists on your behalf: please email us with details of your sighting (where, when, flag/band patterns etc).
Other articles on this site relating to Spoon-billed Sandpiper and/or Saemangeum include:
External link:
References:
Birds of the Chukchi Peninsula and Wrangel Island (Vol 1). L A Portenko, Amerind 1972.